Ways to Remember and Honour Your Best Friend
These are some of the things I have done to remember My Tammy, and to celebrate her life.
I hope that you may find them helpful too.
Like me you probably took hundreds of photos of best friend over the years. I have many albums filled with happy photos, and have framed many of them and also printed them on tee shirts. After Tammy died I felt like I needed to have more pictures of her around me, so I poured through them, which was difficult, but it helped me to feel close to her again. I selected some for framing and for scanning to use on this site etc. I decided to put together an album of her life, and you may also like to do this. You can include pictures, write favourite recollections, pedigree certificates, paw prints etc. It is hard to do, your heart will break, but maybe a certain picture may make you smile as you recall happier times. I discovered that making an album like this is called scrapbooking, which has given me a much loved and addictive interest.
I have created some pages all about Dog Scrapbooking, you can view them here.
I have kept her brush,comb and mac in a wooden box, I have put some of her soft fluffy hairs in a special Winnie the Pooh enamel pot, on the inside of the lid is says "Best Friends Until Forever" I have kept her collar and harness and these are heavenly as they still smell of her. I have also put some of her hairs in a transparent Key Ring fob which can also be used to put a picture in.
Memorials ~ Tributes
Printed Tributes
I had the tribute below printed in Dogs Today magazine
Dogs Today Obituaries
Pankhurst Farm
Bagshot Road
Near Woking
Surrey
GU24 9QR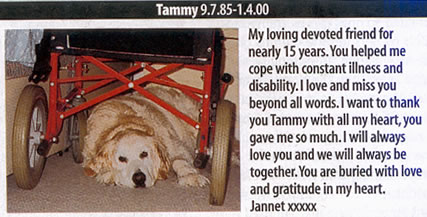 Realistic Dogs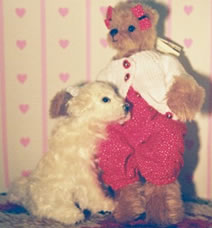 My parents gave me "Best Friends" for Christmas 2001. They were made by talented Teddy Bear Artist, Jacquie Wickendens. Photos of Tammy helped her to create a very good likeness of my angel. They are adorable.
Please visit Jacquie's site for more details. J.C.W. Bears

Online Memorial

You can post online memorials at the sites below


My Tammy memorial page you can also add a picture of your pet.

Plant a Tree

This is a nice idea. I had some trees planted for Tammy at The Garden of The Rose, in
St Albans.

Celebration Forest
Celebration Forest is in Idaho USA . You can plant a tree and scatter ashes around your memorial tree


Native Woodland Natural Buriel Sites
With Native Woodland, you can include the interment of your pet's cremated remains as part of your own funeral arrangements; or, if your pet survives you, the pet's ashes can be interred alongside you, when the time comes.

In the Garden


On our first holiday without Tammy I asked my family to collect some pebbles from the beach. I washed and dried them, and painted the letters of her name on each pebble. I used enamel paint to do this, you may also like to varnish them, as this will probably help them to withstand weather conditions. I needed to have something in the garden to remember her, as we enjoyed many happy simple times there.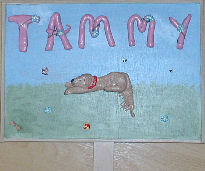 I made the above plaque to go in the garden in memory of my Tammy. I used Sculpey clay and Patio Paints to create it.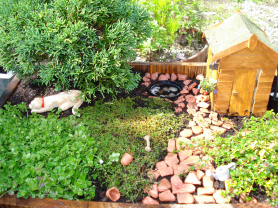 I also made this minature garden to honour my Tammy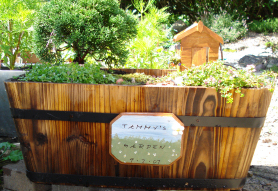 Plant a Rose

You may like to plant a rose or another special plant in your garden. We have planted poppies and a peach coloured rose named "Sweet Dreams" Which we purchased from Gardens of the Rose

Make a Web Site
I had made two previous sites to this one. I began the process by reading a book on HTML and typing the code by hand in Windows Notepad. I have slowly progressed from there. HTML is not as difficult to learn and to use as you may think.

If you do not wish to learn HTML there are lots of places where you can build a site online, such as Google Sites.