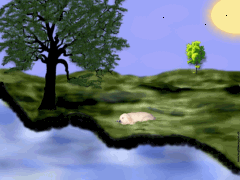 This beautiful Animated screensaver is of Tammy (Golden Retriever Puppy) sleeping by a flowing river. Birds, bees, and butterflies fly around her and if you listen carefully the birds may sing too!
Download scr file here 520kb

Even though I know that it is safe to download the software from this site you should still have a anti virus program on your computer, and scan all downloaded software for viruses before use. This site does not accept any liability for damage following the use of any software downloaded from this site.